DSI Celebrates 30 Years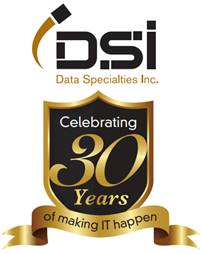 We at Data Specialties Inc. are proud to celebrate 30 years of designing, building and renovating Data Centers, all while enabling Data Center owners and operators to manage their facilities safely, effectively and efficiently.
Our projects have allowed our clients to expand their revenue-generating operations, replace mechanical and cooling infrastructures and prepare for future growth, all while ensuring their Data Centers remained operational during construction work. These projects include:
Design/Build of a new Data Center for a top US Electronic Retailer that had outgrown its existing Data Center
Upgrade of a Data Center to meet current power and data needs and allow for future growth for emergency operations for a Police Department
Expansion of an existing Data Center for a Global Technology Firm that supports two major automotive manufacturers using scalable, modular infrastructure and coordination with the local power company to install a new utility service dedicated to the new Data Center
It is also our pleasure to provide educational content to guide owners and operators as they manage the day-to-day operations of their facilities and plan for the future, with content such as:
The Data Center industry has changed significantly over the past 30 years and DSI has been there for every step of the evolution. We look forward to changes in the next 30 years, from more avenues for increasing energy efficiency and reducing costs, to innovative chip and cooling technologies, to new ways of thinking about the physical space of a Data Center, to changes we haven't even imagined yet. We can't wait to take the journey with you!